I am so in
LOVE
with neutral tones, flowy fabrics, ripped denim, and riding style boots. I love going on polyvore and making cute little outfits together. It is so much fun! I think it is because these are the items I love to wear in RL, however, on polyvore you can find the very pricey items that I wouldn't be able to afford. Definatly not as a college student getting through fashion school. In my dreams. So, I thought, why don't I try to recreate my favorite look on Polyvore with my second life avatar!? Great idea, and so much fun.
I cannot wait to see more riding style boots and frye boots on sl. These are the first ones I have seen with a brown color! I was so excited when I found them I just had to pile up all these ideas to create this post. Well, I hope you love this fall look. Of course, this is fall to me because I live in SoCal and we aren't as seasonal as NYC people. And also, us Los Angeleans have a fetish for denim. Of course, I love NYC fashionable taste and their style that has of course rubbed off all over the world. But this is another issue to discuss, because I believe fashion is something that the world shares and everyone takes something from someone else but eventually establishes what they like and make their own unique style. So you have to love the taste of all countries, I believe, and take what you love to wear..there, you created your own unique fashionable style. Have fun!
This is something I would definatly wear in real life. Here i tried to make it with second life. A little challenging, but still so much fun!! Tell me if you like this style, are you a boho girl like me? Or perhaps, you might prefer a more elegant style, I dunno, but I love you either way.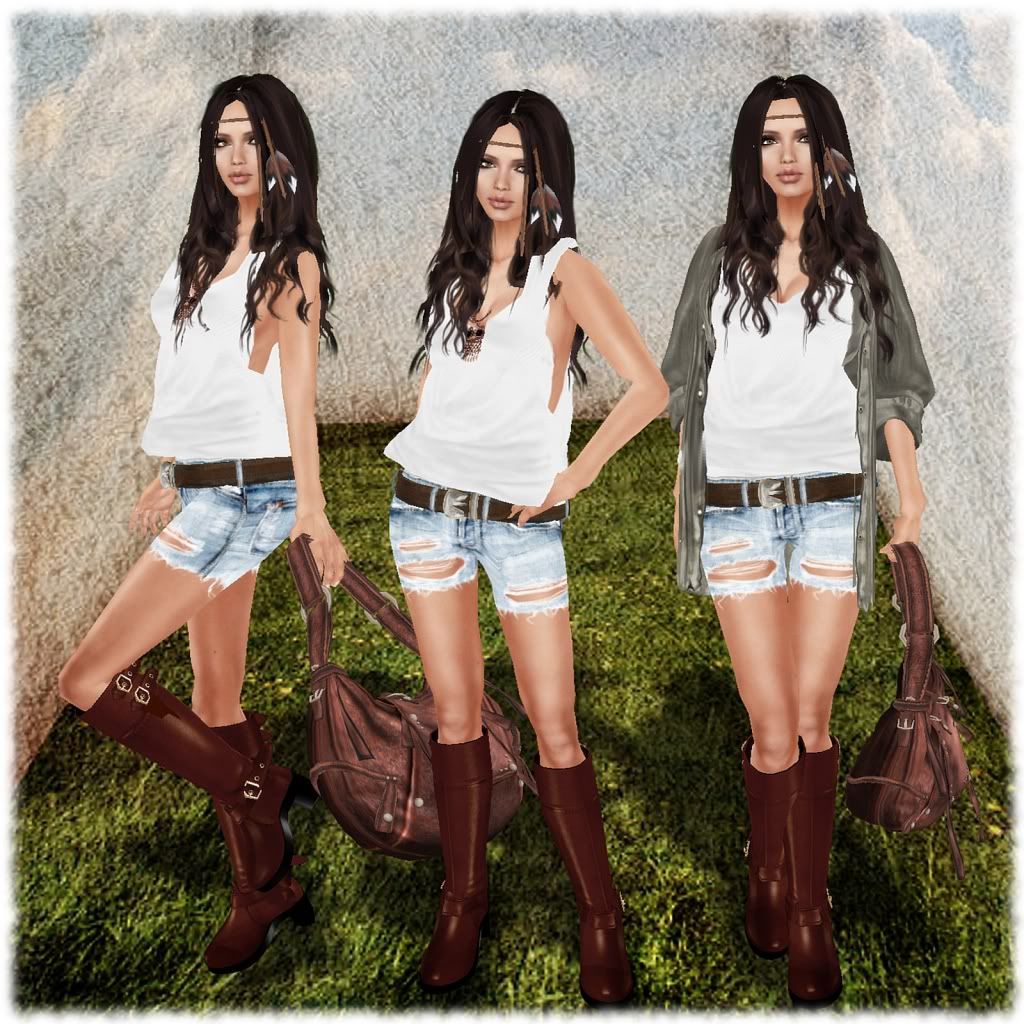 Outfit Information
Purse: Barerose- rescent Brown
Necklace: Boing Fromage-50's Dangle Necklace
Headband:Heading to Dreamville-Lux Feather Headband
Hair:Shop Seu-Sexy Hair Purple Brown
Boots: Metronome-Jockey Boots Dark Brown
Shirt: Niniko-White Loose Tank
Shorts: Gigi Couture-Destroyed Light Washed Denim Shorts
Cardigan: Cubic Effect-Suede Half Coat Gray
Skin: League-Medium Misty Natural