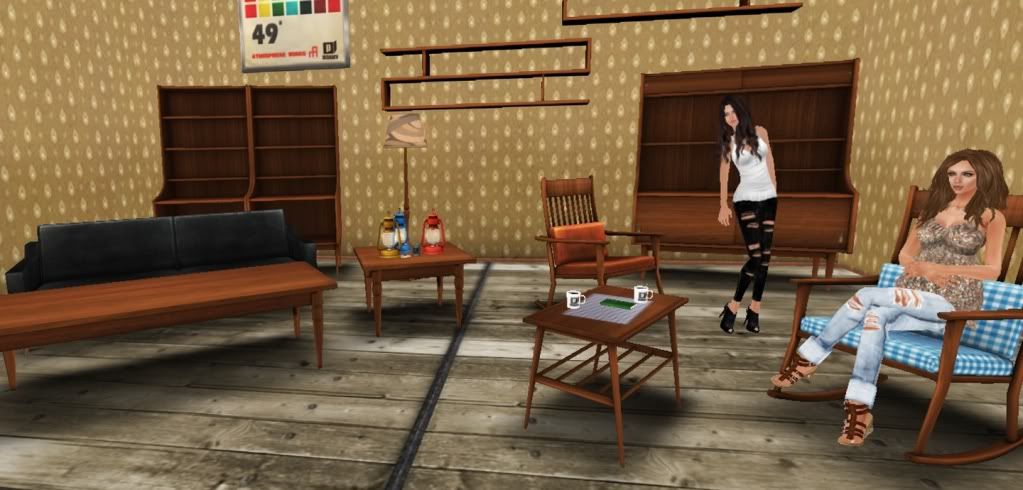 Sometimes a girl needs a new taste, a new couch maybe, some new
sculpted items. I have a rather fond love for the creativity of the Japanese, and in particular, for this review, Daikick Gausman. He is the creator of Atmosphere Works. His work is very realistic and uses many contemporary styles.
The above grandma set, which includes both rocking chairs, a coffe table, some coffe, and a cute little note. The rocking chairs have multiple textures that can be changed. The whole set is only 19 prims and costs 350L. Such affordable furniture in both prims and Lindens.
The lovely shelves are also very affordable and great quality. For only 300L you can get a set of 2 large cuboards and 2 smaller ones. Each shelf is only 7prims.
Of course, the lovely loveseat is only 6 prims! You can buy it for 300L. And of course the large coffee table can be purchased for 250L and is only 5 prims, and you get 3 types of tables.
Outfits from left to right
Outfit #1
Shoes: Maitreya Frenzy Black
Pants: Gigi Couture Black Denim Ripped
Shirt: Gigi Couture - Plain White T
Hair: Shop Seu - Sexy Hair Purple Brown
Skin: LeLutka - Moscow 7B light
Outfit#2
Skin: League Medium Natural
Shoes: UntoneQuilt Gladiator Chocolate
Shirt: NOAR Red Tunic
Hair: Truth Sophia Fudge
Jeans: Gigi Couture Light Washed Ripped Jeans
There is SOOOO much more furniture and decorations! You must check this place out! The sim includes horses, chickens, telephones, ashtrays, etc. So check it out.
http://slurl.com/secondlife/Meguro/90/160/26