Gigi Couture has released their new denim collection. These jeans are exactly what you were looking for in real life, forget second life, you want these for real, to wear, everyday. The denim is made of high quality realistic looking textures with real pockets, zippers, etc. The amazing thing is what you get when you buy these jeans. You get 3 styles in both underwear and pants layers. Style 1 is the basic denim in its original state. Style 2 is the destryoed version. Each color includes a different style of holes as these are designer jeans and not all of them will come out exactly alike. Style 3 is the destroyed version with the military badges sewed on to the jeans.
These jeans are available in all the colors you see including an acid wash version and the very tasteful black denim. Each denim package comes with a rolled up option as well as a bootleg option. Some of the jeans come with belts while others come with sculpted studded pockets.
These designer jeans are a must have for any fashionista since they go with anything and, let's face it, if your into fashion in real life, eand you are an urban girl, you will love these. Enjoy, and be satisfied with your purchase
Live.
Love.
Laugh.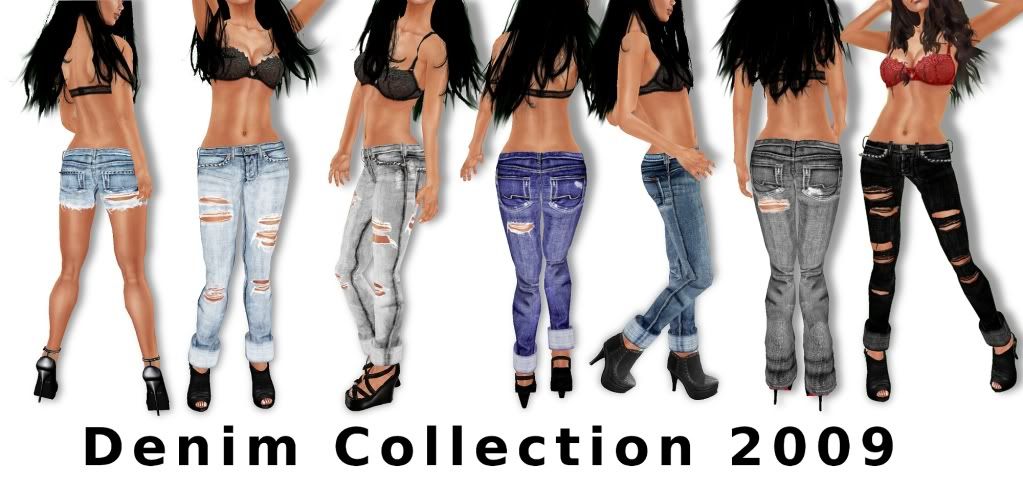 Outfits Left to Right
Outfit #1
Bra: Blowpop-Yvette Black
Jeans: Gigi Couture Destroyed Light Washed Denim Shorts
Hair: Laqroki Claudia Hair
Shoes:N-Core Stylus Platform
Skin: League Medium Misty
Outfit #2
Bra: Blowpop-Yvette Black
Jeans: Gigi Couture Light Washed Denim
Hair: Laqroki Claudia Hair
Shoes:Maitreya-Frenzy Dangerous

Skin: League Medium Misty
Outfit #3
Bra: Blowpop-Yvette Black
Jeans: Gigi Couture Gray Acid Wash Destroyed Denim
Hair: Laqroki Claudia Hair
Shoes: Armidi Gisaci-Rio Beleza Wedge Black
Skin: League Medium Misty
Outfit #4
Bra: Blowpop-Yvette Black
Jeans: Gigi CoutureBlue Destroyed Dnim
Hair: Laqroki Claudia Hair
Shoes: Maitreya Frenzy Banana Black
Skin: League Medium Misty
Outfit #5
Bra: Blowpop-Yvette Black
Jeans: Gigi Couture Original Denim
Hair: Laqroki Claudia Hair
Shoes: Italiano Street Women High Ankle Boots by Januz Glaz
http://slurl.com/secondlife/Juliet/118/48/48
(So in love with these)
Skin: League Medium Misty
Outfit #6
Bra: Blowpop-Yvette Black
Jeans: Gigi Couture Gray Destroyed Denim
Hair: Laqroki Claudia Hair
Shoes: Maitreya Frenzy Dangerous
Skin: League Medium Misty
Outfit #7
Bra: Blowpop-Yvette Red
Jeans: Gigi Couture Black Destroyed Denim
Hair: Shop Seu-Sexy Hair Purple-Brown
Shoes: Maitreya Frenzy Black
Skin: League Medium Misty